Choosing the correct EPOS system for your business can be a daunting and time-consuming process - however, with our team of advisors and support staff, we will always offer honest and reliable information based on your requirements. Our flagship EPOS software REGISTER is suited to both Retail and Hospitality environments and is available across two main license types which can be adapted to your business: from a single till to multi-site businesses operating multiple tills.
Included in this bundle is all the hardware you need (15" Android touch screen till, printer, and cash drawer) and then a monthly software license. Licenses are completely flexible and can be cancelled or made dormant with only a month's notice - so no long-term commitment is required. Additional add-ons are available in the accessories and please see the download section for complete pricing and options available, such as discounted licenses for multiple tills.
Software Cost
£29.95
/month (ex vat)
£35.94
/month (inc vat)
EXTERNAL BILLING SERVICE
One Off Hardware Cost
£456.00
£380.00
In Stock

(ready to dispatch)
Total Price:
£456.00
£380.00
Description
Features
Videos
Downloads
Description
REGISTER SOFTWARE
Cost effective feature rich point of sale designed for simplicity
INTEGRATED CARD PAYMENTS
Faster transactions, remove errors and simplify end of day settlement
MULTIPLE SITES
Centrally manage, monitor and report on the total estate in real time
Sales made Simple
Barcode Scanning
Ensures speedy service, correct pricing and accurate stock.
Age Verification
Setup age restricted items for both customers and clerks.
Fixed Discounts
Create pre-configured discounts for items or whole transactions.
Configurable Reasons
Understand what has happened and why with configurable reasons.
Measured Products
Sell products by weight or length.
Cashless Sales
Remove cash sales option from tenders, ensuring a card only business.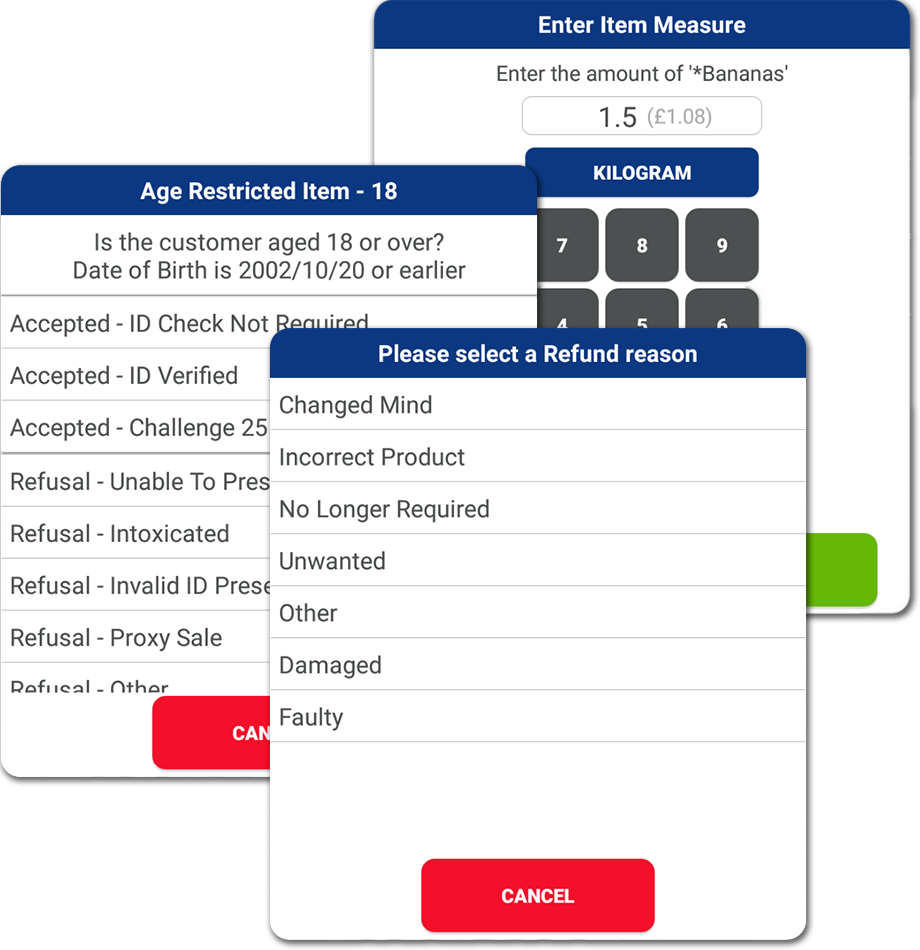 Manage & Control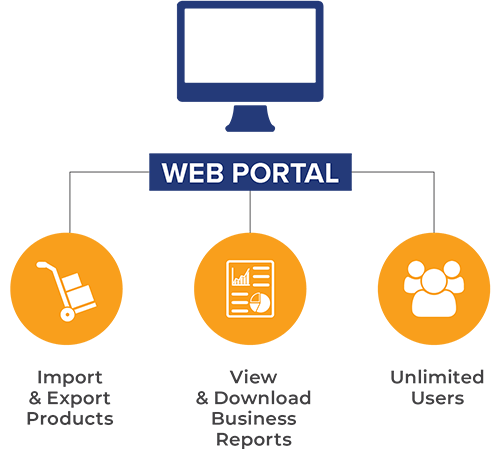 The Right Choice
Simplicity

Register EPOS looks and operates like a standard electronic cash register (ECR), this is something everyone has reference too and simplifies training. With its guided workflow, it is simple and intuitive to use.
Peace of Mind

Register EPOS is backed by a multi-level support team delivering "Enterprise Class Support". Our systems run in the same type of operating environment that tier one retailers use. The Register EPOS software uses a hybrid architecture of cloud and local data allowing it to work offline if your internet goes down.
Maximise Profit

Registers' central view on your retail world provides the ability to make the best use of your stores, staff and products in order to maximise profit and focus on peak times.
Grow & Innovate

Register is a catalyst for your innovative retailing concepts by rapidly enabling change. Sell on the shop floor or at a festival, staff to consult on products as opposed to fulfilling transactions. Customer Relationship Management (CRM) allows to know your customer. Remind them of appointments via text, good for you and convenient for them. View spending and target appropriately. Operational efficiency is key for growth, without it, as you get larger you get slower. Register has been designed to enable retailers to scale with ease with centralised control. Add a café to your bike shop or salon.
Stay Current

You're a retailer because you love your products and serving your customers, not because you want to keep up on technology. You need a solution that stays current, and simply brings new trends and technology right to you. Register is automatically updated regularly, based on customer requests and market trends.
Save Time

Quite simply Register EPOS automates tasks and gives you back time. Examples include, centralised reporting from all stores and Registers, that can be emailed direct to your account, automated stock management and commission calculations. All saving you time and money.
Features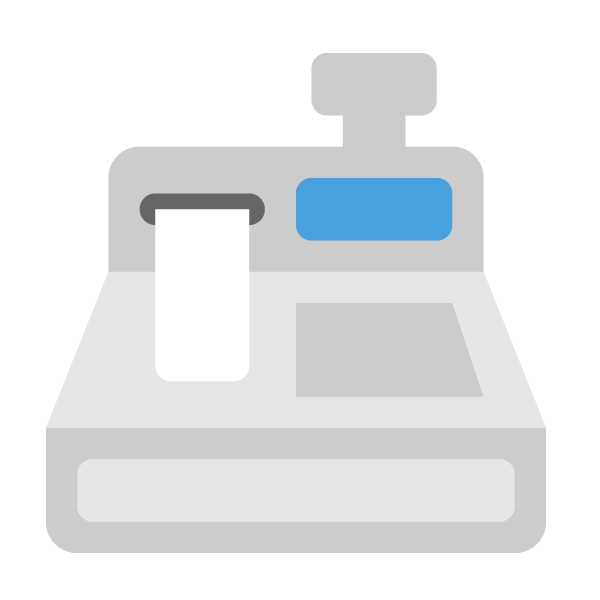 Simple Epos Functionality
Intuitive design with all the functions you need just a tap away.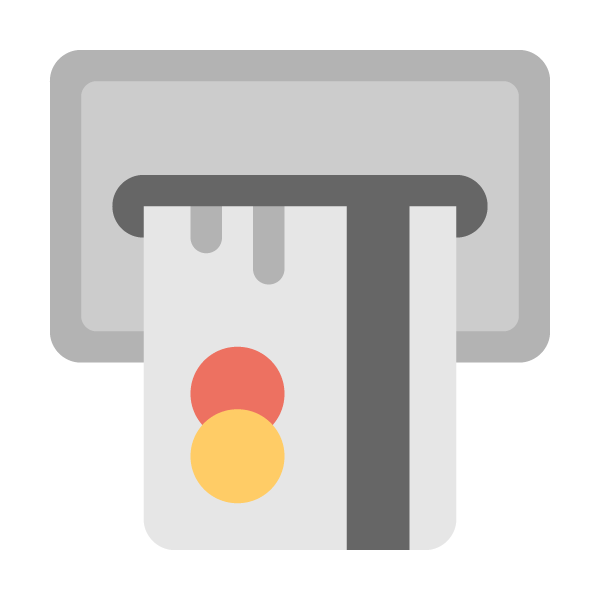 Integrated Card Payment
Take fast and accurate payments with a fully integrated solution.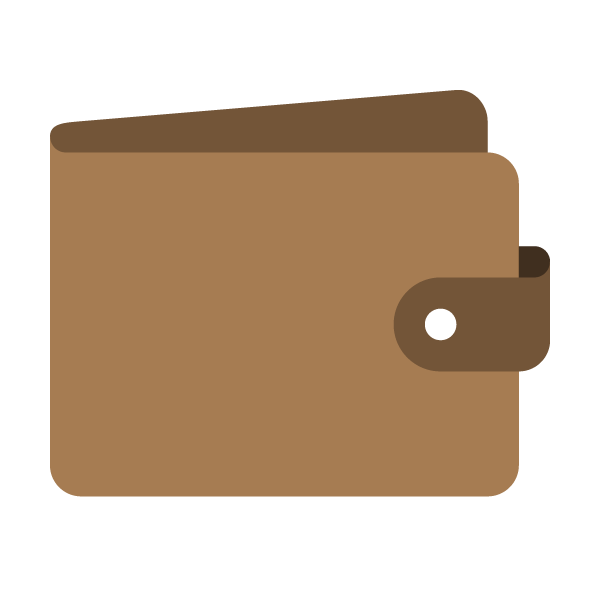 Cash Management
Record and control cash payments with simple end day reconciliation.
More / Less

Works Offline

No Internet = No Problem. Register fully operates when offline.

Email Receipts

Connect Register with your email and provide digital receipts.

Product Management

Create and manage your products, services and taxes instantly.

Barcode Scanning

Scan barcodes to add items to your basket quickly and accurately.

Reports

Instant access to sales and product reports on device and online.

Free Updates

Stay up to date, we provide updates automatically free of charge.

Discounts

Apply percentage or price discounts to the whole basket or single items.

Web Portal (Back Office)

Free Web Portal providing central reports and management.

Cloud Backup

All data is automatically backed up to the cloud giving peace of mind.

Measured Products

Sell products by weight of length.

Multiple Stores

View, manage and support on all stores centrally.

Stock Management

Automated inventory control and reporting.

Supplier Management

Centrally manage and report on suppliers.

Supervisor Approval

Enforce Supervisor Approval for specific functionality.

Unlimited Users

Unlimited Register and Web Portal Users.

Additional Tenders

Custom tenders such as E-Wallet or PayPal.
Web Portal
Extensive Reporting Suite
Register provides an easy to use reporting suite, allowing generation of live reports.
Operation reports provide a clear view on system usage, such as cancelled sales, cashing up, paid in and out, voided items and more.
Sales reports give a clear overview of products, departments, product profitability, shifts and more.
Stock reports include low level stock, non selling items, stock movement and stock levels.
Reports can be exported to csv for further use outside register.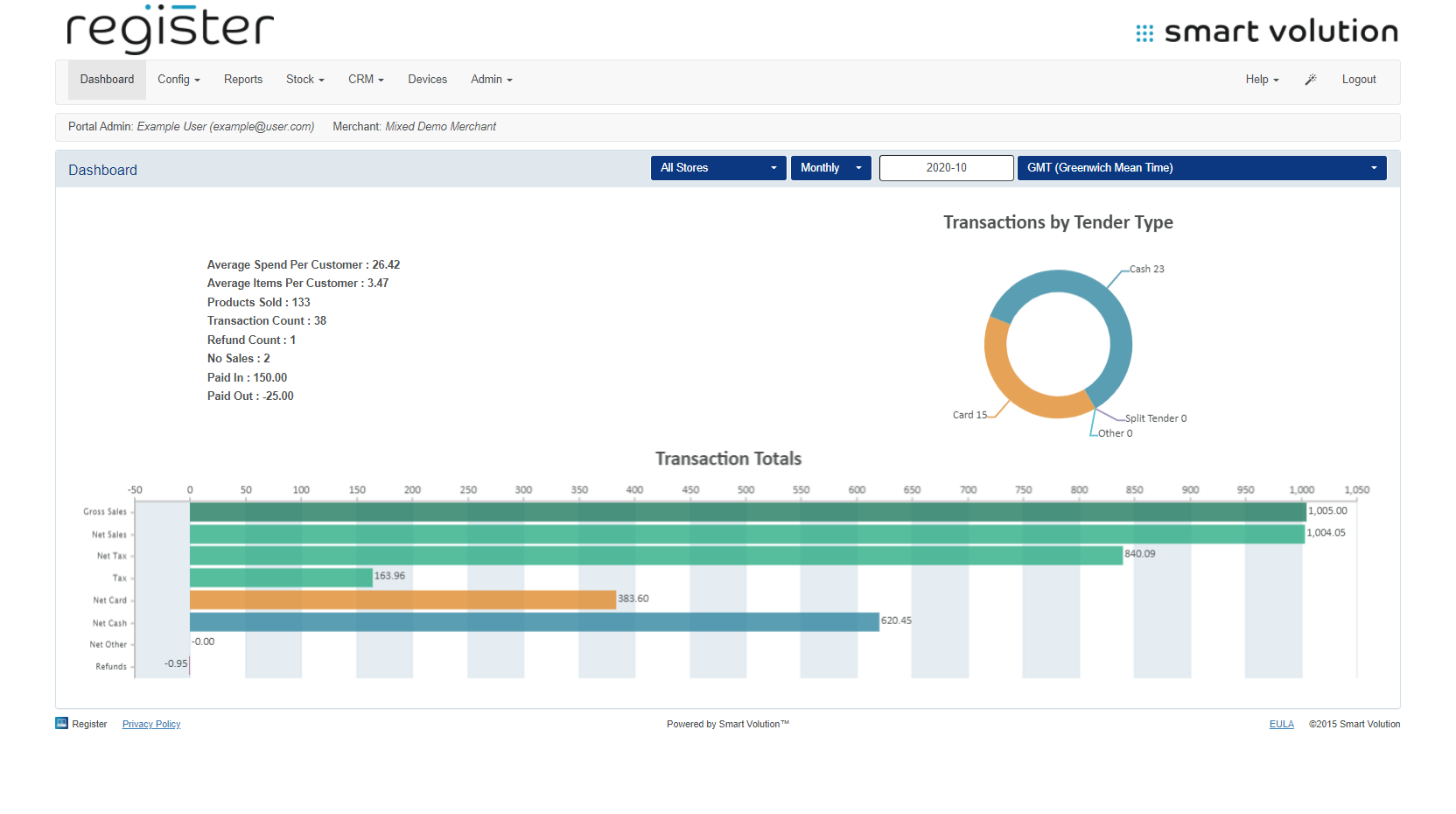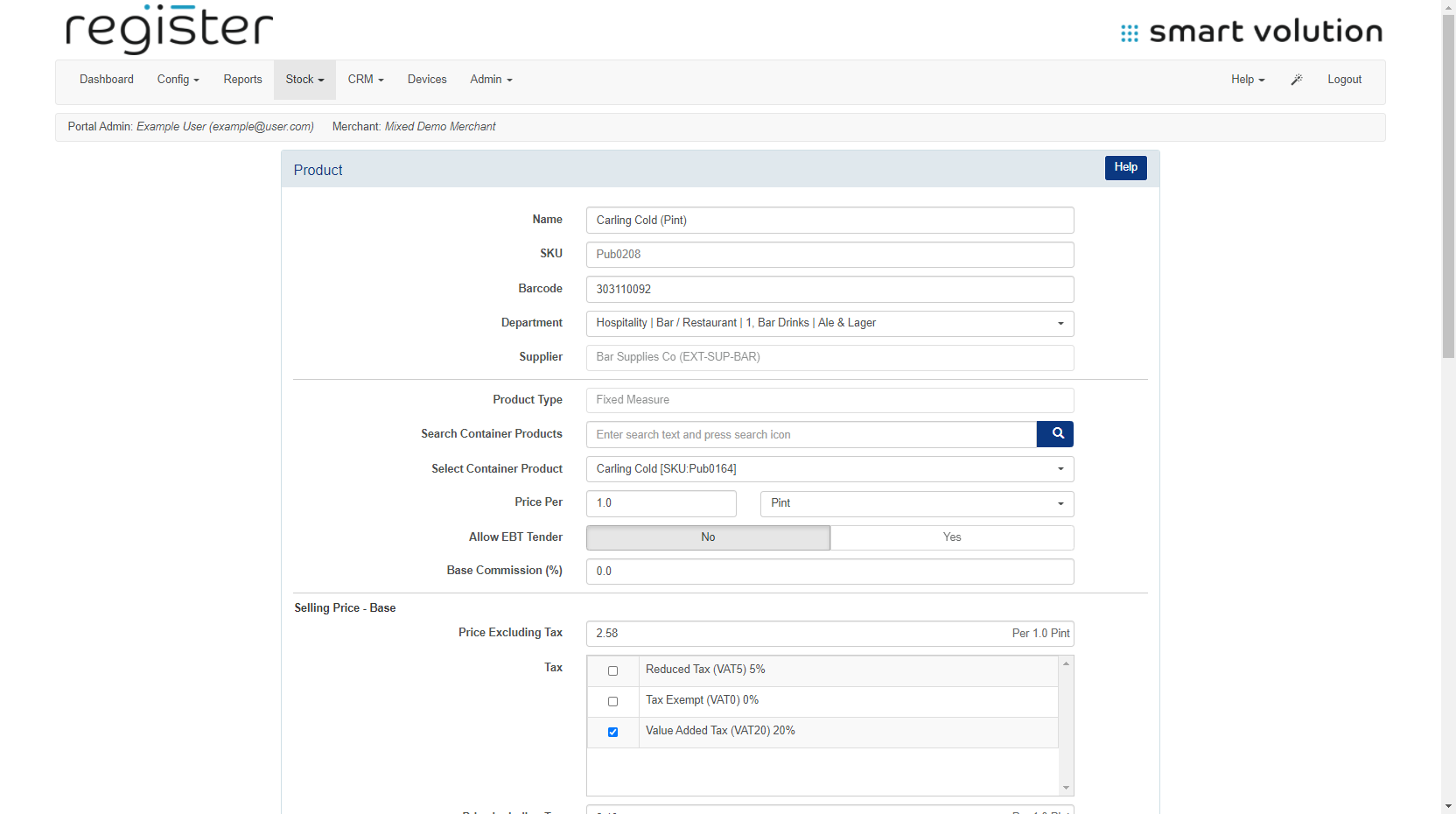 Easy Product Management
Create, edit and duplicate items from the simple to use interface.
Product creation allows the addition of barcodes, tax levels, price levels, images and more.
Product types include regular, measured and container for better stock control.
Import and Export products with the csv templates available on the product creation page, allow easy addition of new products in bulk.
Highly Customisable via Profiles
Profiles allow for high customisation of settings, ranging from staff log in methods, to receipt information, to printer settings.
Multiple profiles can be set up allowing devices to have varying settings, or a single profile can be assigned to all devices for consistency.
System can be branded with your logo and colours, and up to 3 images added to the customer display (if applicable) on rotation.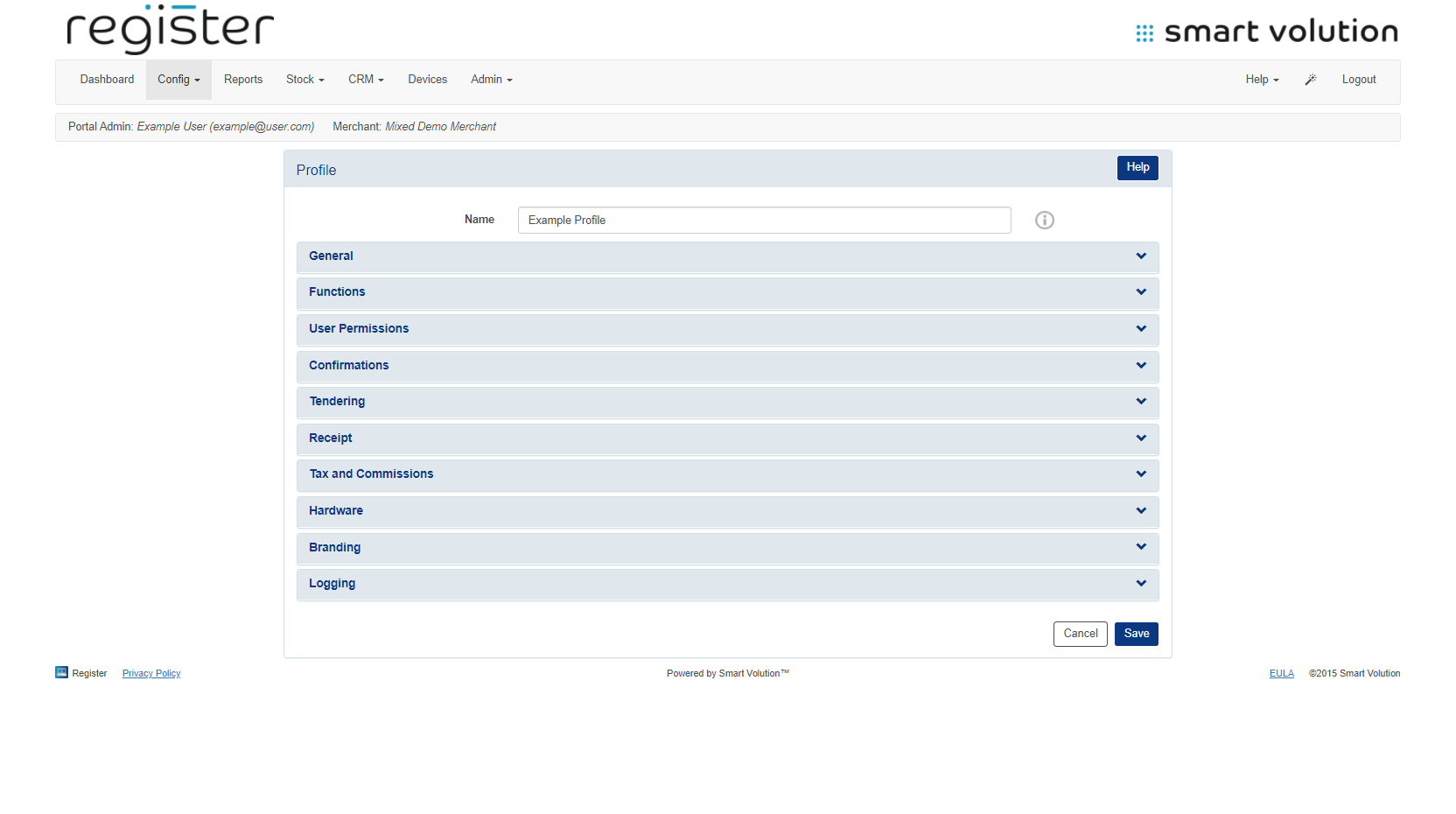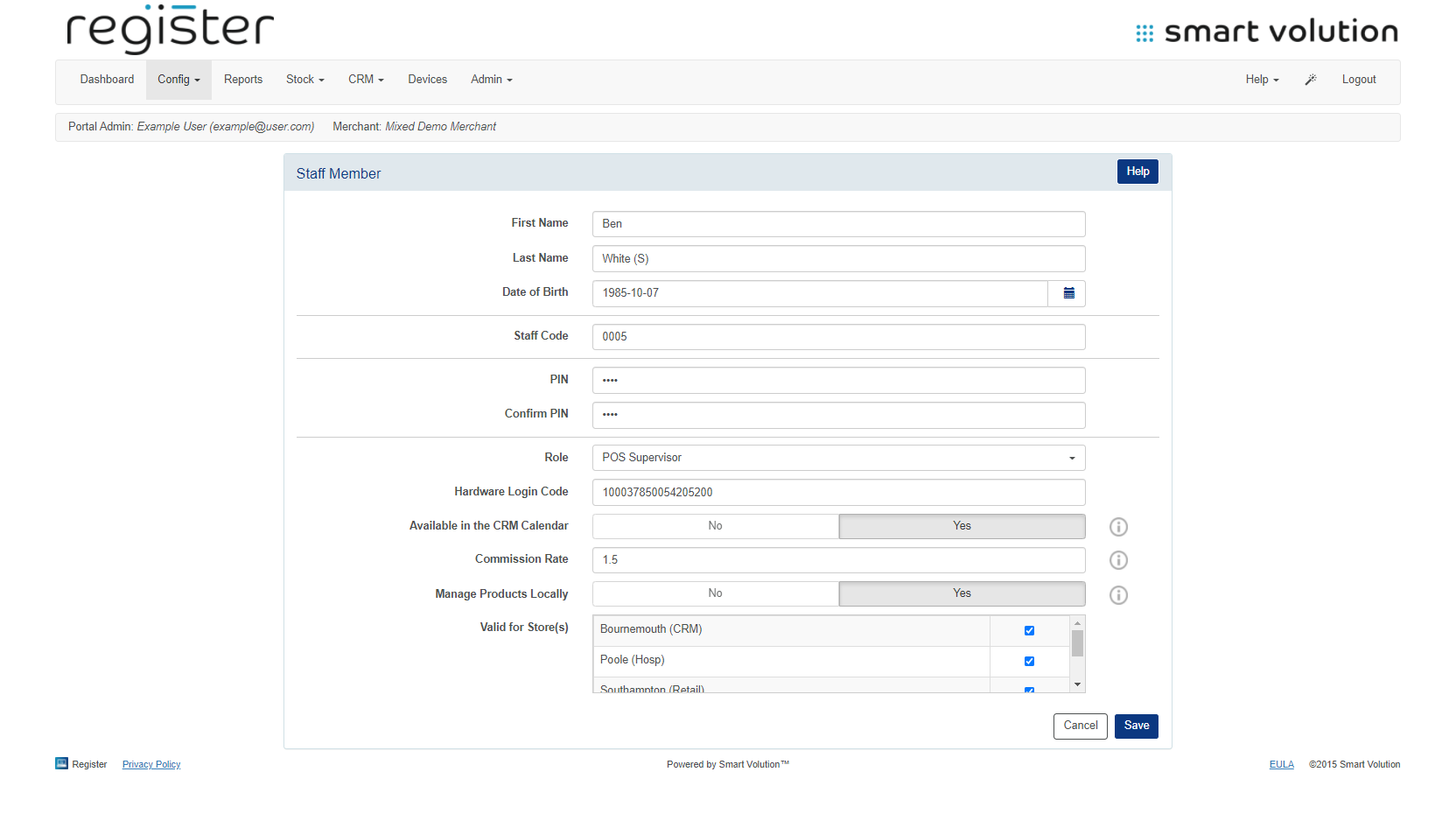 Staff Management
Staff are assigned one of two roles, Supervisor or POS User. Most functionality can be restricted for specific roles using the customisable profiles mentioned above.
Staff can log in through various methods, touch name on screen, type code on screen, and through adding additional hardware such as dallas key, nfc and barcodes.
Staff can be assigned a DoB for age verification, given commission rates, and assigned to multiple stores.
Stock Control
Stock levels can be tracked on products and increased and decreased from the product menu.
Warning messages can be displayed to the user when trying to sell 0 stock products.
Transfers between stores can be initiated between stores, allowing the creation, dispatch and receipt of transfers.
Suppliers can be added, allowing products to be linked with a specific supplier.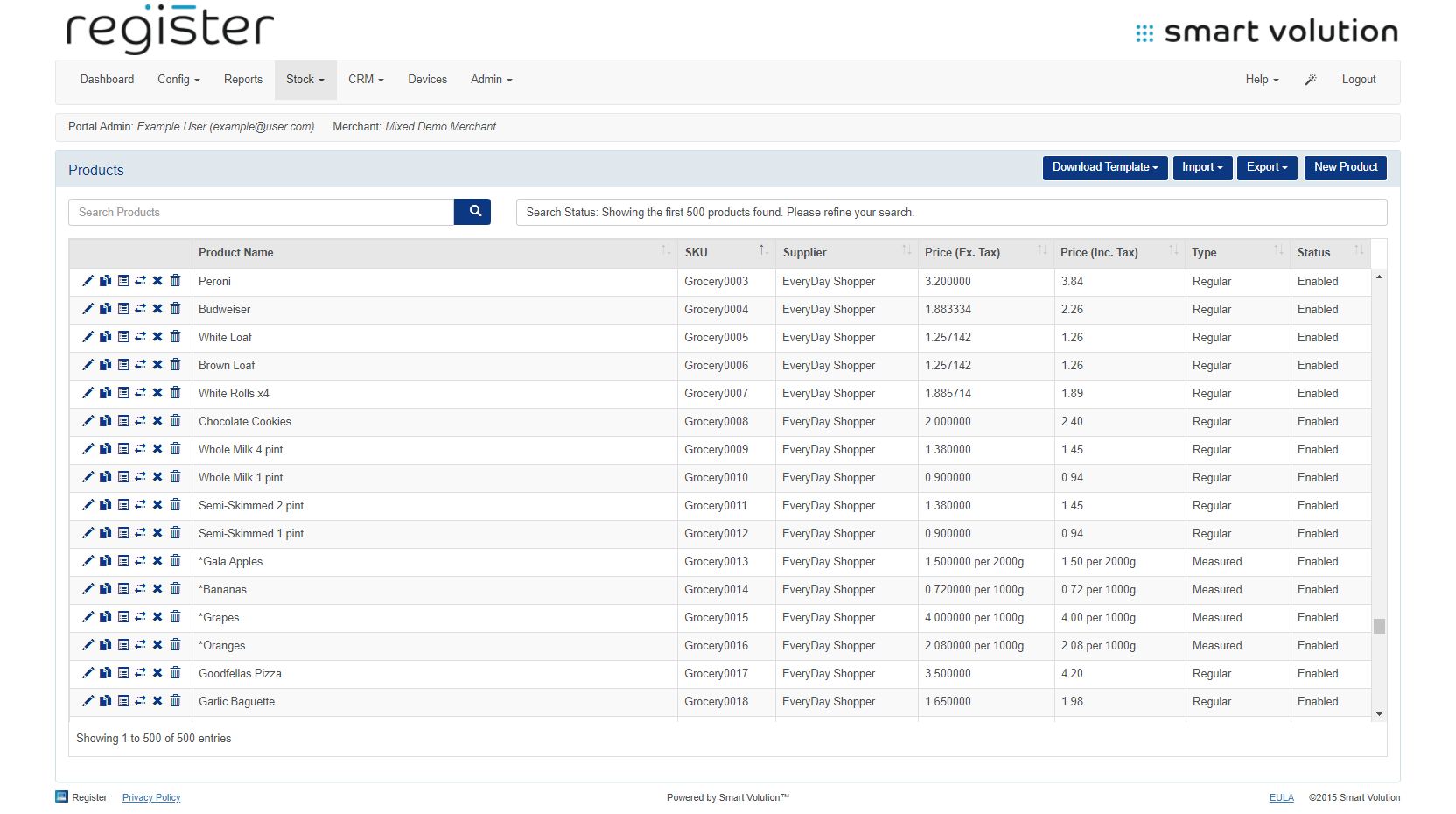 | Feature | Core (selected) | Plus |
| --- | --- | --- |
| Integrate Card Payments | ✔ | ✔ |
| Operate Offline | ✔ | ✔ |
| Email Receipts | ✔ | ✔ |
| Regular App Updates | ✔ | ✔ |
| Product Management | ✔ | ✔ |
| Sales Reports | ✔ | ✔ |
| Cash Management | ✔ | ✔ |
| Back Office Portal | ✔ | ✔ |
| Manage Muliple Sites | ✔ | ✔ |
| Import/Export Products | ✔ | ✔ |
| Configurable Product Browser | ✔ | ✔ |
| Weight/Liquid Management | ✔ | ✔ |
| Stock Management | ✔ | ✔ |
| Extensive Reporting Suite | ✔ | ✔ |
| Multiple Price Lists | ✔ | ✔ |
| Secondary Printer (Orders) | ✔ | ✔ |
| Customer Display Management | ✔ | ✔ |
| Suspend Transactions | ✔ | ✔ |
| Staff Profiles | ✔ | ✔ |
| Staff Role Permissions | ✔ | ✔ |
| Tab Management | ✗ | ✔ |
| Configurable CRM | ✗ | ✔ |
| Appointment Booking | ✗ | ✔ |
| SMS Reminders | ✗ | ✔ |
| Commission Reports | ✗ | ✔ |
| Product Modifiers | ✗ | ✔ |
| Staff Time Keeping | ✗ | ✔ |
Features
Videos
Downloads